In der Festival-Beilage des NME wird "unser" Festival so beworben:
"If your average gig is a walk in the park, a typical festival is a sharp sprint and the likes of Glastonbury a marathon, then Roskilde is the Iron Man Triathlon. It's a monster, a six-day 170-band bender across seven stages with an average set length of over an hour (headliners play 90 minutes). While the event proper only runs for four days, thousands of punters turn up and stay at the opening Saturday before the festival weekend, literally knocking down barriers in their haste to get the party started.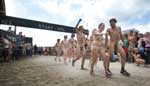 And from then on it is some party. Nudity is welcomed, nay encouraged, as thousands of Europeans take a skinny-dip in the site's lake. Plus, there's the annual Naked Run, a wobbly-bits-jiggling dash for the finishing line which sees the victor presented with free tickets to the next year's event (and presumably a pair of pants to reclaim their modestry). They recently added a new rule to the race, allowing the line a ticket in an attempt to make it less of a solely swinging ballbag affair. On a more salubrious note, every penny of the festival goes towards good causes, and it distributed before the following year's event, so you can go about your business watching the world's megastars (and some Danish hotshots too) with glowing smugness without haveing to war a plastic red nose."
2 Tickets gibt es hier zu gewinnen.